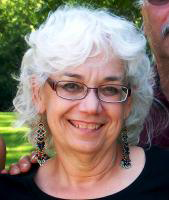 Grandmother of Heart Wisdom
Mixed Media , 20" × 4" × 8"
$475
Artist Statement
I am a storyteller with a very visual mind who lives in the world of stories, metaphor and symbolism. The theme of most of my work reflects my desire to explore the Mysteries of the Unknown. I translate the images that arrive in my dreams or manifest through flashes of insight or intuition from my subconscious, and I allow my thoughts and emotions to flow and develop as I work. My dreams and intuition inspire my way of working – a pondering, a questioning of how to translate what I've been shown to manifest the hidden story. My intention is to create artwork that evokes this sense of transcendent mystery and purpose.
I am drawn to materials that can be re-formed and trans-formed from their original use to reflect their innate properties in a different way than originally intended. Mixed media is a great medium, a no rules approach to art-making which allows me the freedom to use what I find intriguing. I love the fluidity of the process and never know what a piece will be like until it is happening – just playing with possibilities. Something deeply meditative and restorative begins to happen as I piece the unrelated items together and they take on a new life with new meaning. My process is very instinctive so experimentation without expectation allows me enormous freedom to simply create from my heart. I refer to my process as my soul listening to the inspiration of my Muses which means that my life and my art are always in a state of transformation. Being an artist is medicine for my soul and I feel grateful every single day.